A Message From Our Sponsors...
It was a dark and stormy night...oh, umm...oh, sorry about that. Hello.
Welcome to My World of Odds and Ends and Chartreuse Colours and the
Little Red Things in the Pimento Olives. Anyone who has a picture of a
pimento olive, I would be grateful. So, for the time being, welcome and feel free to check it out.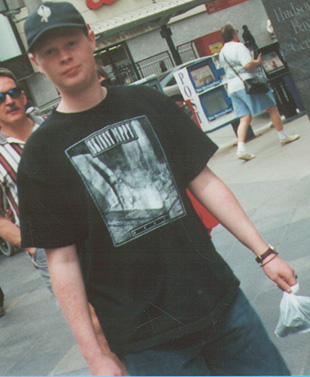 This is an old picture of me in Denver. Looks, cute, eh? Wait until I get an updated picture. Let the drooling commence!
The refigerator has been opened
times. Why are you still here?

My Snazzy List of Links

My Music Collection A List of My Music Records, Casettes and CD's
Legendary Pink Dots
Front 242
Jon Whitney's Pages
The Brainwashed Jukebox lots of MP3s and RealAudio

Accepting poetry, complaints, compliments, and pimentos at DotCurse@juno.com

Sign My Guestbook
View My Guestbook
This page was made by
Froggie
. Want me to do yours?
E-mail
me.
Guess What! I'm going to be moving to Tulsa soon. Shhhh...don't tell!